November 12, 2023
I have talked for several years about trying to make fig ice cream for my fig-loving friend, Brandi. It hasn't happened for several reasons: 1. We aren't usually in town together during fig season, 2. She insists they are too expensive to use a lot of figs on ice cream.
I even asked the produce guy in Costco if they ever got them and he said he's had lots of inquiries but doesn't remember ever seeing them. But wait! They DO (or did) sell dried figs! So I figured that was better than nothing.
As usual, I searched the internet for fig ice cream recipes. I know the proportions of milk, whipping cream, and sugar that I typically like to use, so I typically take several recipes and come up with my own variation.
Have you even SEEN fig ice cream in an ice cream store? I don't remember having seen it. Although, I do like Fig Newton cookies if that counts.
Two weeks ago, it was game-on. Brandi was coming to our home for a small group meeting which includes a meal. After eating, I announced that I had made some fig ice cream for Brandi, totally expecting scrunched noses and eww-faces. Instead, the response was, "It is ONLY for Brandi??" Well, how about that? They wanted to try it!
And, it was a hit! I had seen a recipe for goat cheese and fig ice cream so I put some goat cheese crumbles out to be used as toppings. One person loved it that way. I didn't see any added value and prefer mine "straight."
The following week, we went to friends' house for dinner. When I asked what I could bring, they gladly jumped on the fig ice cream idea. This gave me a chance to tweak the recipe a bit and I think it is now a keeper!
Fig Ice Cream Recipe:
Fig Ice Cream Recipe:
Kristin Emily Friend's 11/2023 version

Ingredients:
2 cups heavy cream
2 cups milk (I use 2% or whatever is onhand)
1/2 cup BROWN sugar – NOT packed
3/4-1 cup dried figs, chopped small
1 teaspoon vanilla
pinch salt


Instructions:
Bring 2 cups of milk to almost a boil.
Add chopped figs and brown sugar.
Allow to soak until no longer hot.
Mash figs against the side of the bowl with a fork (optional.)
Add heavy cream, vanilla, and salt.

Refrigerate overnight or until well chilled.

Freeze in ice cream maker.

We use a Whynter 2.1 quart tabletop ice cream maker, Model ICM-201SB.

When pre-scooping, this will fill 7 to 8 6-oz-cups with lids.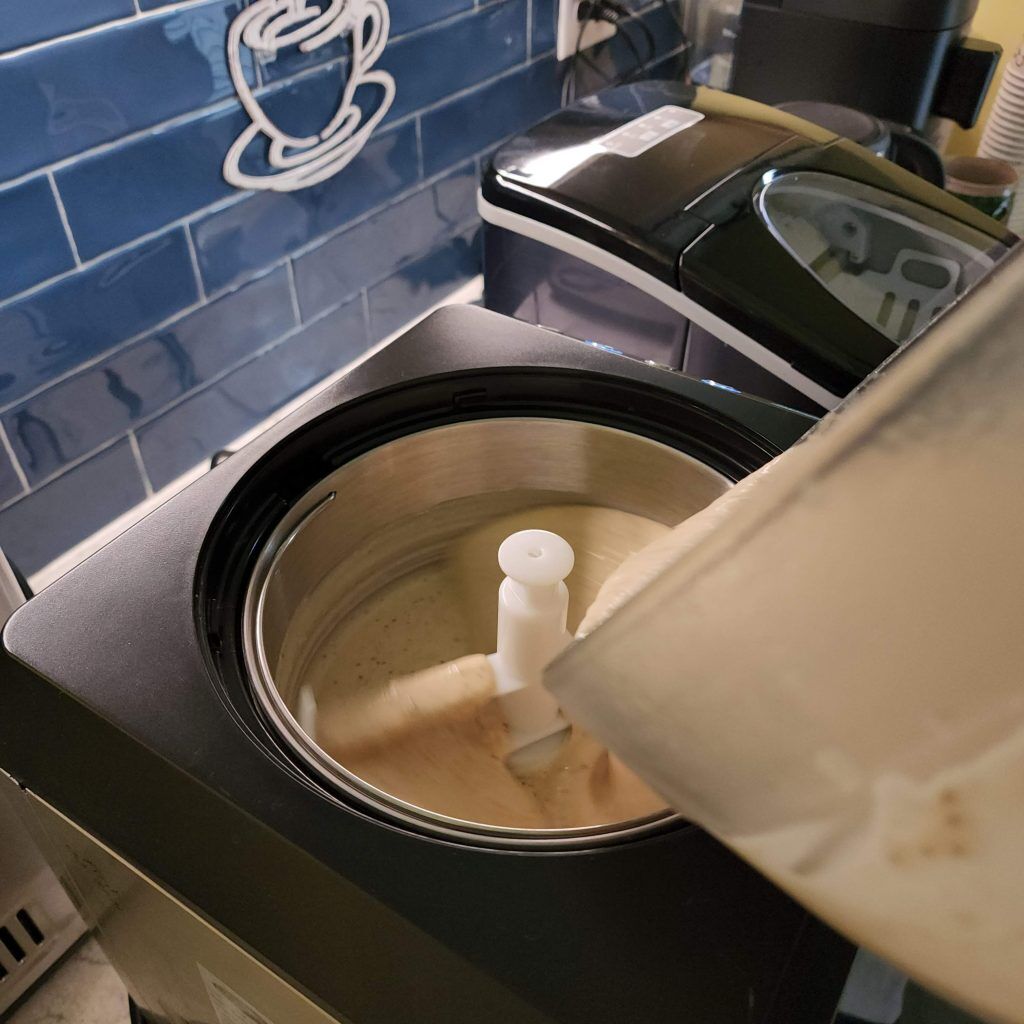 To receive email updates when new KEF posts are added (including ice cream!)
subscribe in the box to the right. ➡️