November 15, 2023
Hello, Dear Friends!
To those of you who…
…are new, WELCOME to A Double Scoop of Refreshment and Curiosity with a Friend!
…got here by chance, please sign up to receive new post notifications (including newsletters) by using the form in the right hand column of this page.
…have been around a bit, WELCOME BACK!
Okay, it is ME who is back. In the Spring, I decided it was time to move my website. That means starting from scratch. Twice. Kicking and screaming. It has been a challenge to find a website that works well for both of us. Hopefully third time's a charm, right?
Refreshment through Laughter
However, the email I sent out a few weeks ago made me laugh. Clearly I didn't realize that all the verbiage on the preview would be sent to you, too. Haha! Ya'll are great sports to laugh with me. Hopefully, that's fixed this time…but you never know. (I guess that isn't true – you DO know if you got here via the latest email.) No worries. There is relief in imperfection.
How was your summer? And how is it the holiday season already?? What are your plans?
Gregg and I had a wonderful summer up north and have been back in Florida since early September. He has the last three weeks of December off work. So, guess what?! We are planning to take a quick trip to PA during that time. Are we crazy?! Probably.
Aunt Kitten
I've begun a new Aunt Kitten book. The first draft received good feedback which helped me realize it needed something. But I couldn't figure out what was missing. I let it sit in the proverbial drawer for a few months and finally realized this story, as written, didn't tell the message that I set out to convey. So I began again from square one.
The second "first ugly draft" feels more on target. It will feature Tree Frog who was too shy to speak in the first book. He is trying to figure out what makes his heart sing. The original cast of characters are in this book. They are joined by Junebug and Gator who represent my newest great niece and nephew. There's Only One You with Aunt Kitten was preceded by a limited edition book for and about the littles in my life. Therefore, it is only fitting to add these two.
I recently painted Junebug. Here is the 30-second speed art video. Gator is next.
Writing and Website
For fifteen years after Mom died, people would encourage me to write. My standard response was, "I don't know what I'd write about." Now I am beginning to have the opposite "problem." Ideas are flowing faster than I can keep up. Last night I wrote out a list of "potential topics" to write on. The list is up to 40! So fun!
To be honest, it isn't necessarily that I "don't have enough time." Rather, I use my time for other things. Including the entertaining black hole of Facebook and Instagram.
My hope for this newest website is to wean myself off of those two forms of social media. Don't worry, I will continue to share. But the majority of my sharing will be here on my website.
Whenever I add a new post to the website, MailPoet will (theoretically) send out emails to all who have signed up on my email list. I am hopeful that this plan will work out better for both of us. For example, I will begin to put my "Sundae Sunday" social media posts here. That way, I can also share recipes and you can add comments, testimonials, and questions below the post.
Refreshment with Ice Cream and Socials
Speaking of ice cream … Gregg and I hosted our biannual neighborhood ice cream social in October. 48 people (including the children) came that Sunday afternoon. We keep the event simple so we can enjoy the time, too, stress free.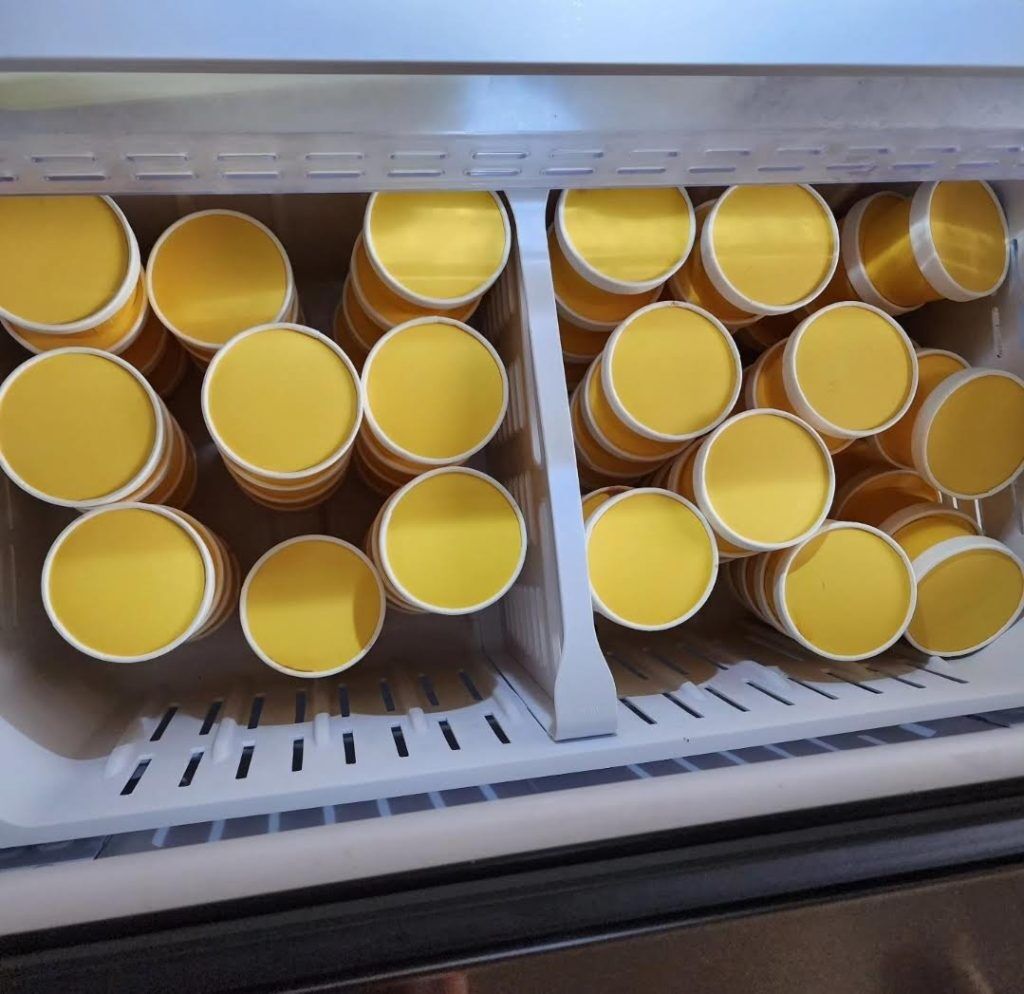 We host the social on our driveway and use the empty garage for shade. From 3:00-5:00, we offer one flavor of (pre-scooped) ice cream with spoons and paper towels. We put out our yard chairs and a garbage can. Some folks will bring a chair. Nope. No drinks. Skip cleaning the house. Go with the flow agenda. Simple. Easy peasy!
On the Thursday beforehand, we take invitations to the 55 homes in the neighborhood. We enjoy a chat if they are home. If not, we tape the invitation to their window.
The flavor of the day was Double Chocolate: chocolate ice cream with mini-chocolate chips. It was a huge hit and some thought it was the best flavor yet. Some liked it better than pumpkin pie – which was the previous neighborhood favorite. Wow!
In Florida, everyone tends to stay indoors, out of the heat, which makes it difficult to know those who live around us. There are many simple ways to help your neighborhood connect. One year, my sister hosted a Cookie Exchange in her driveway complete with a firepit. That was fun, too! The neighbors really enjoy meeting each other and having an opportunity to converse.
Ice Cream Maker
By the way, if you'd like to put an ice cream maker on your Christmas wish or gift list, we like the upright Whynter brand. We have "twins" on the coffee bar. The price has jumped to around $300. It may drop back down after the holidays.
Curiosity turns to Refreshment with Fig Ice Cream
Speaking of ice cream, I have a friend in our "Crazy Love" small group who LOVES figs. I've talked forever about trying to make fig ice cream for her. Sadly, I'm never in town during fig season. So when I saw dried figs at Costco, it was a sign to try it now.
If you know us, you know we've been exposed to innumerable flavors of ice cream. Yet, I don't remember seeing fig. So I assumed people would scrunch their noses and it would go over as poorly as my goat cheese ice cream (which, for the record, I liked.) Boy, was I surprised when the group was excited to try it AND they loved it! Who knew?!
I've since made it again and tweaked the recipe. If you are in the mood for fig ice cream, it's delicious!
A friend has challenged me to try fresh cranberry ice cream. That's my next experiment. Tis the season!
Enjoy!
Kristin Emily Friend
Refreshment with Amazon Reviews
PS – If you have read There's Only One You with Aunt Kitten, you can help me get the word out by leaving an honest review on Amazon (and Goodreads if you are there). Scroll to the bottom of the page and click the "Write a Customer Review" button. Choose the number of stars to rate it and leave a comment of as few or as many words as you wish.
If you haven't read the book yet, you can watch me read it here.
Copies can be purchased from Amazon or directly from me. If you have a book you'd like signed, I'd be honored to do that for you.
Thanks for your encouragement and support, whether you own a book or not. I appreciate you! 🐾